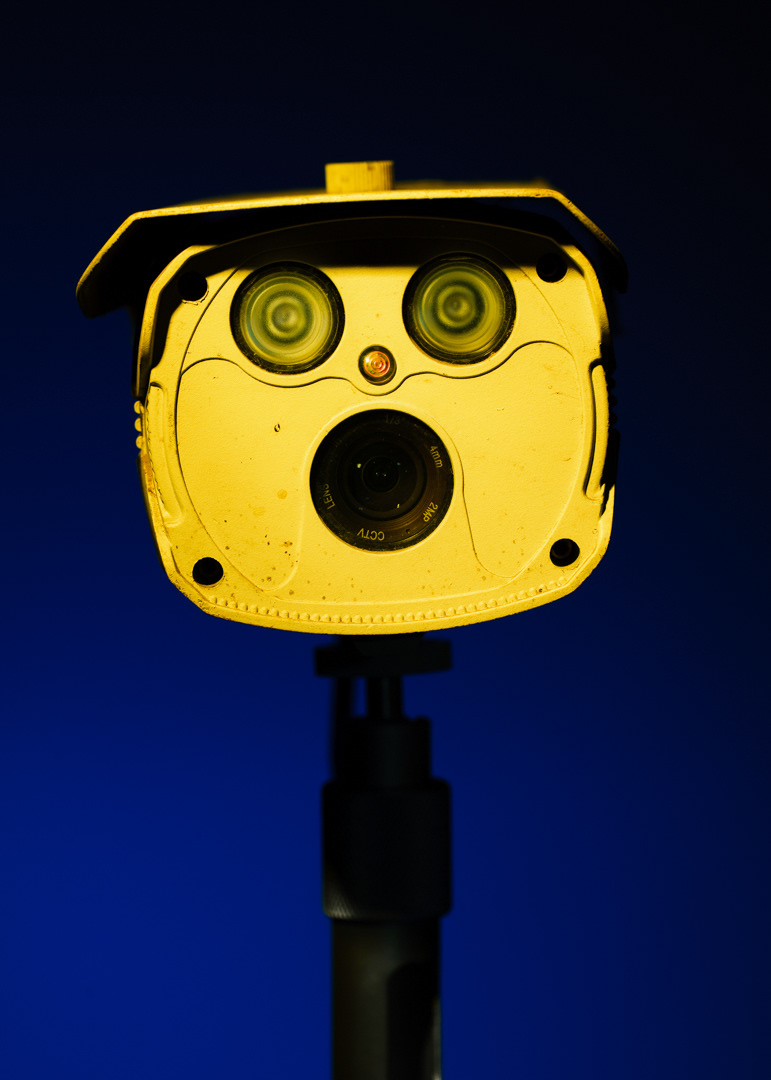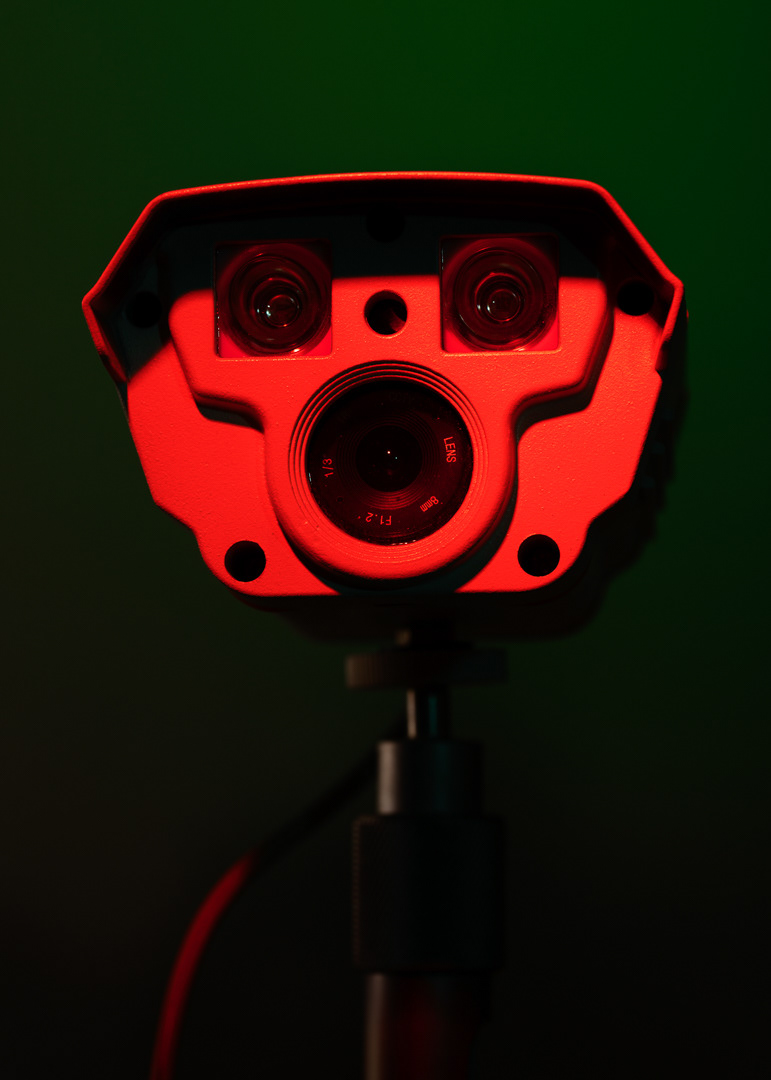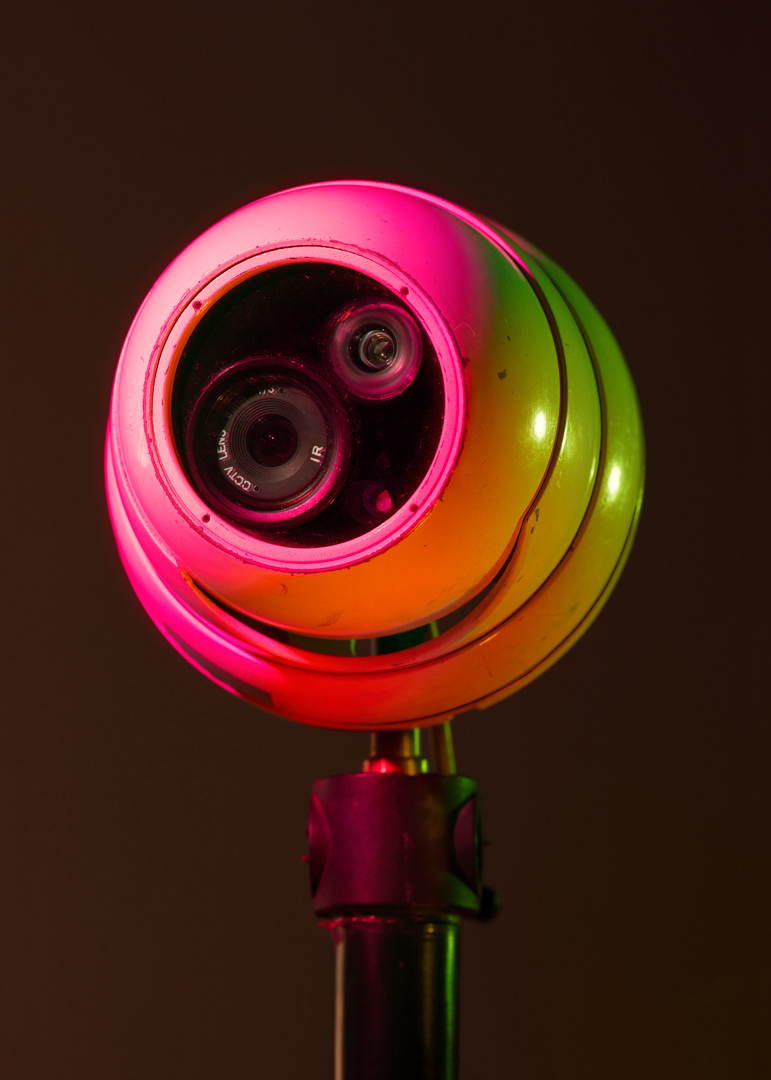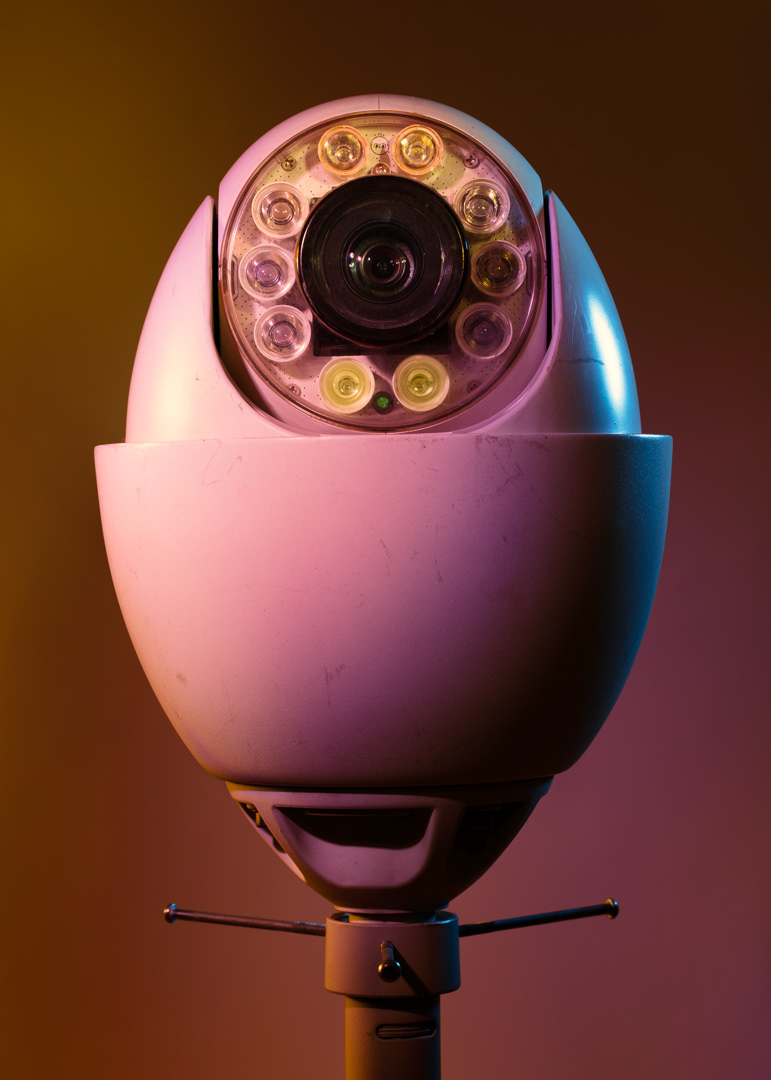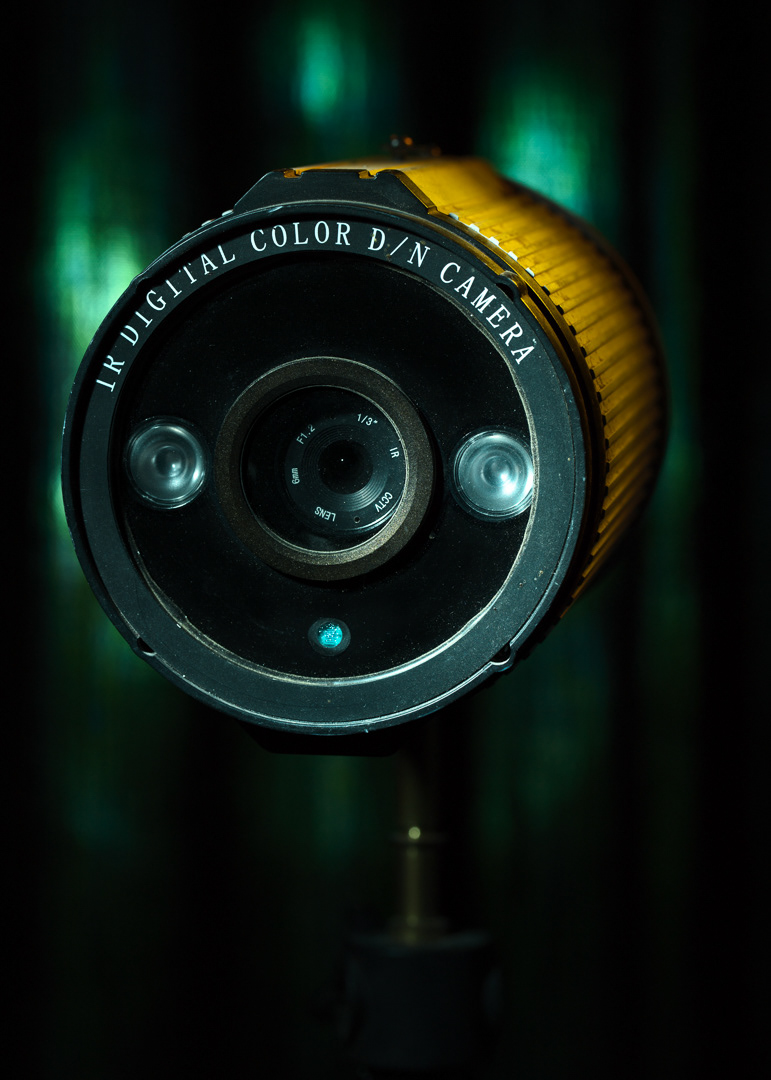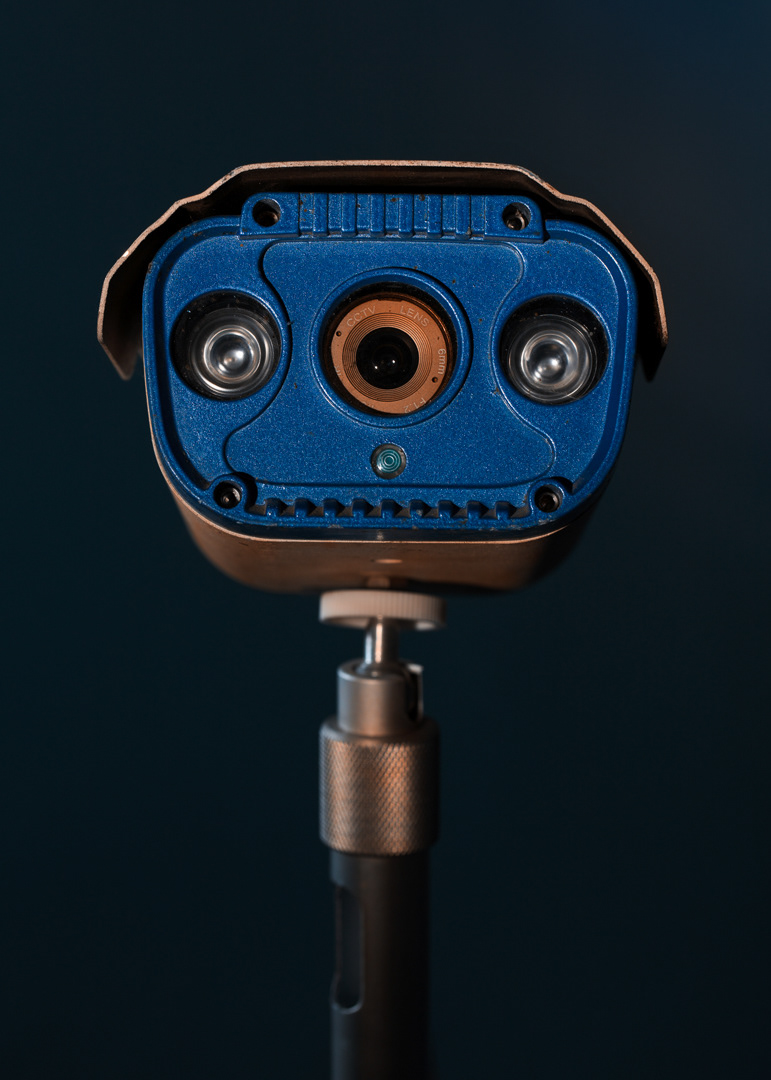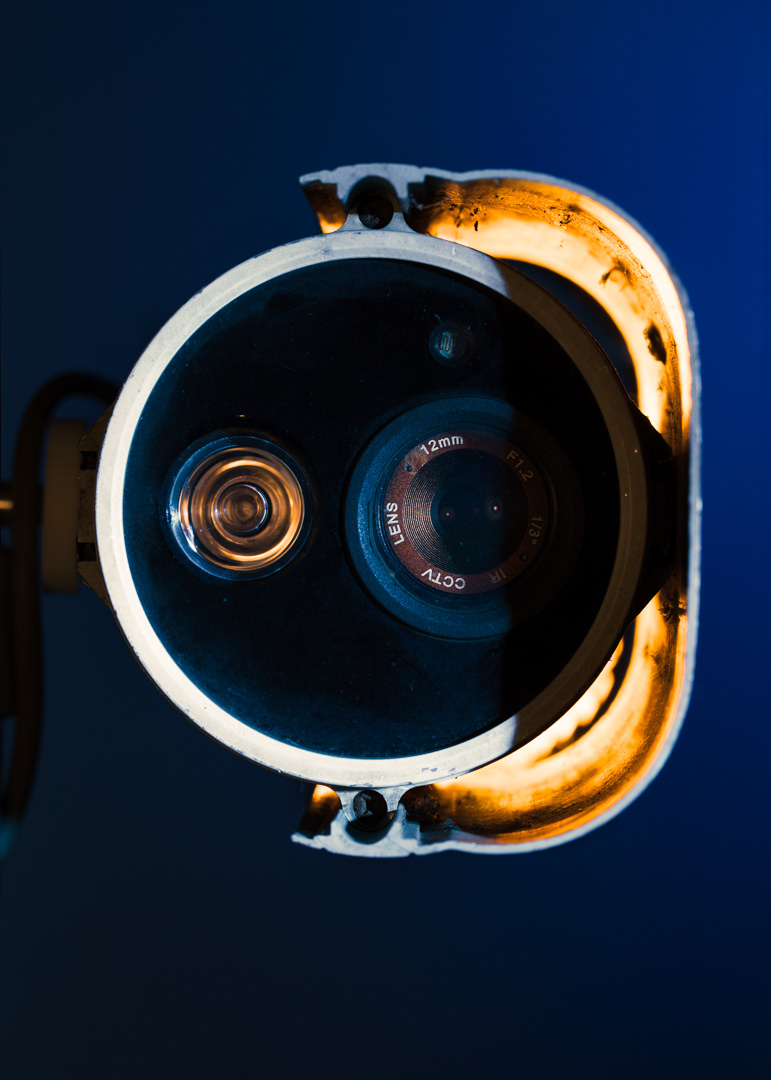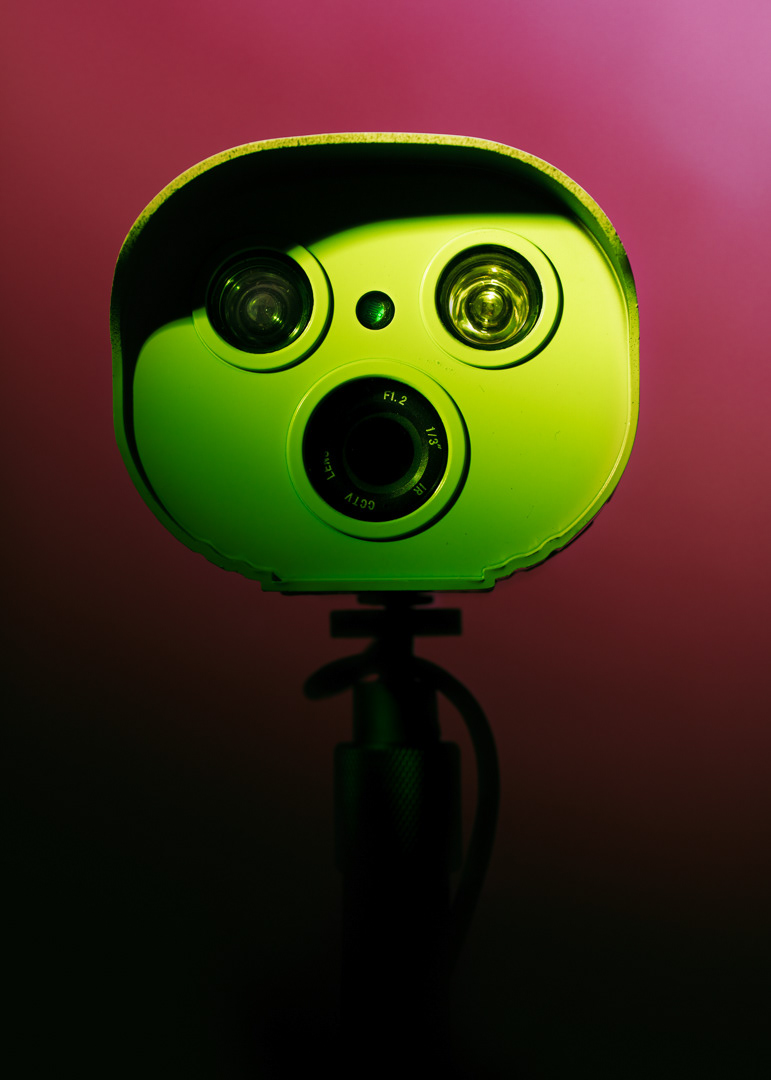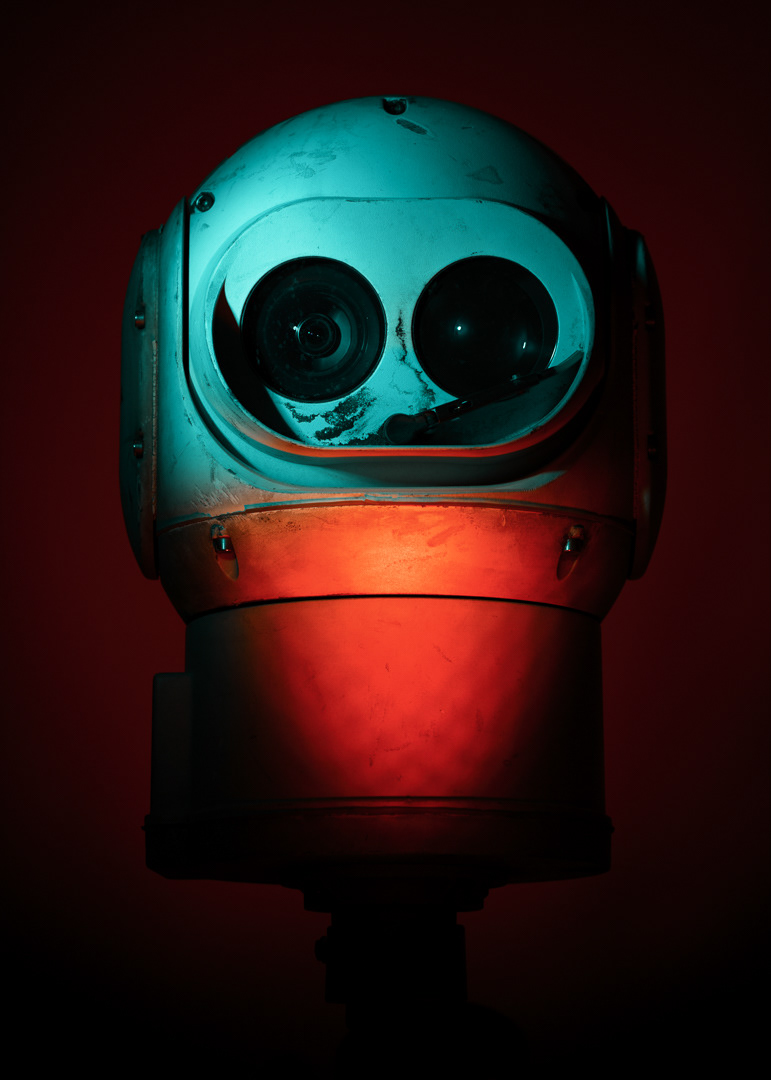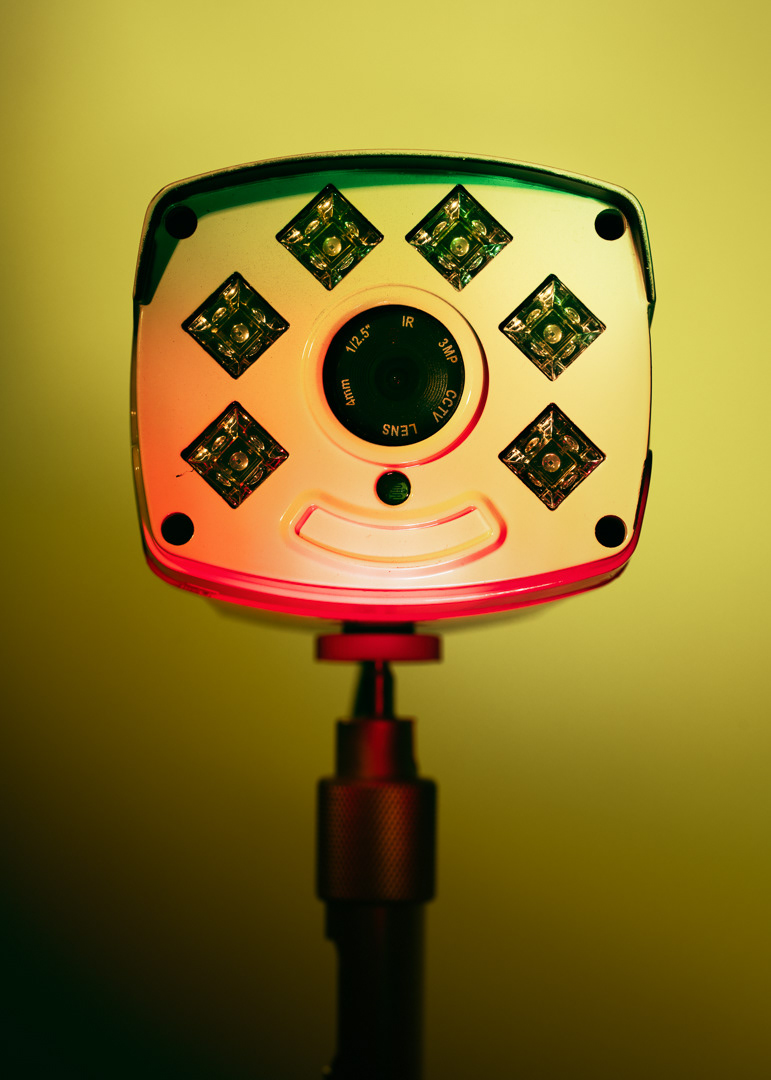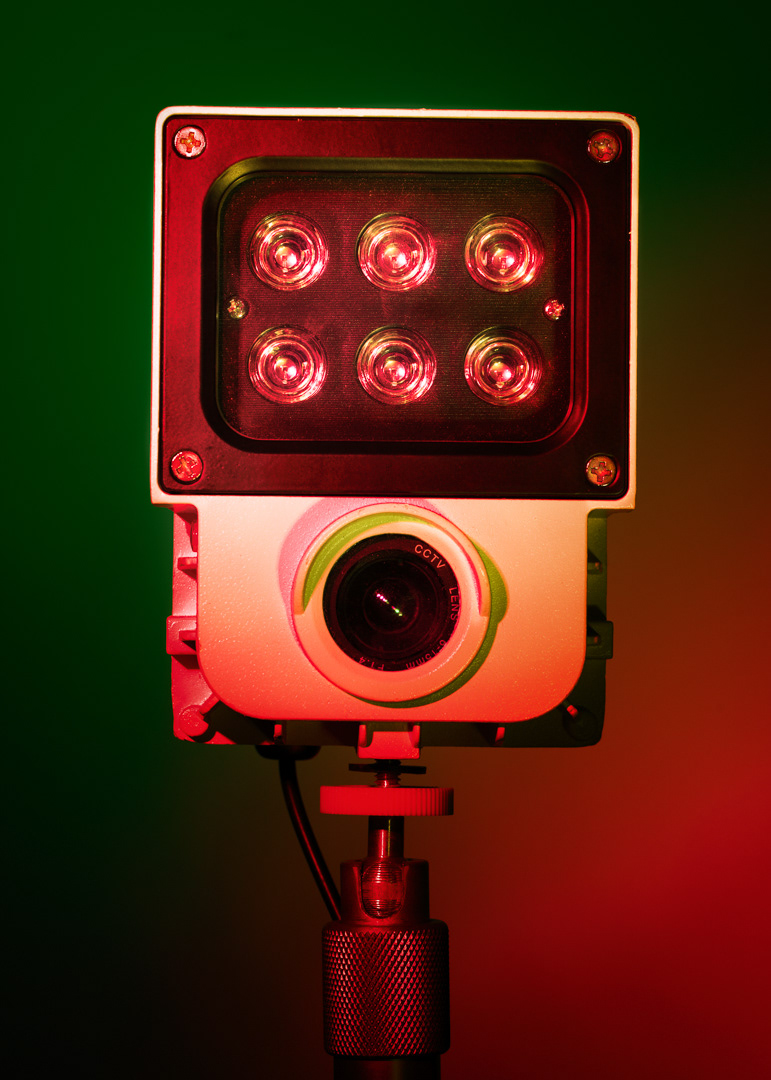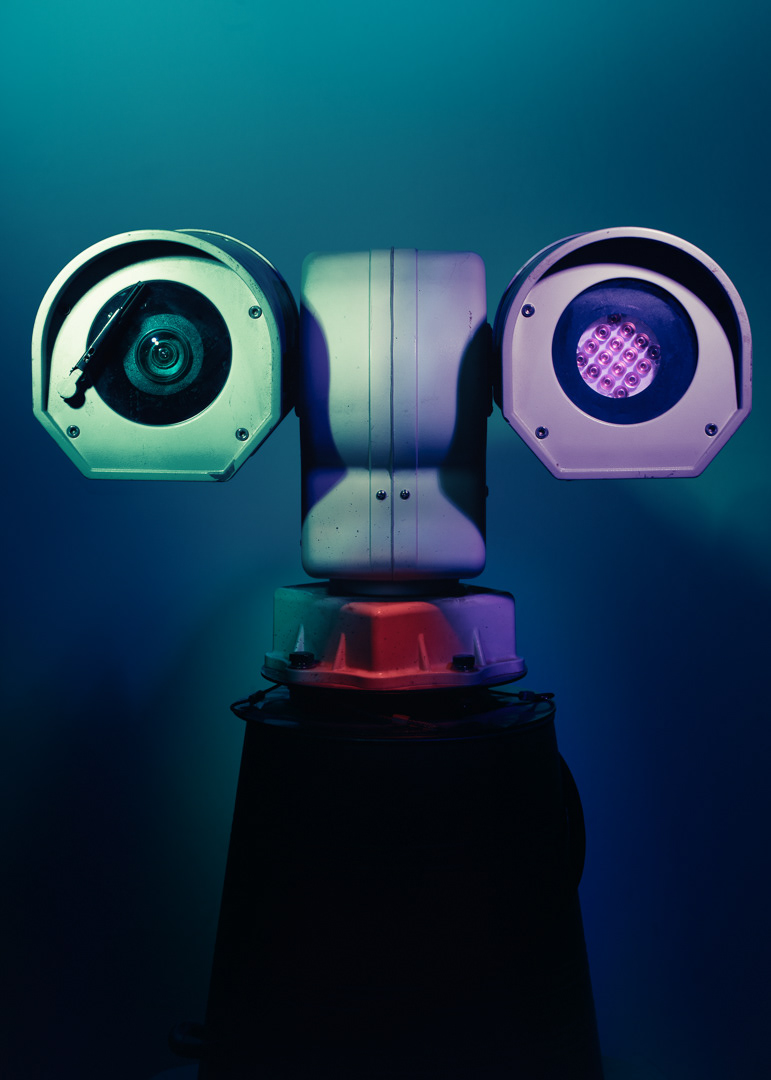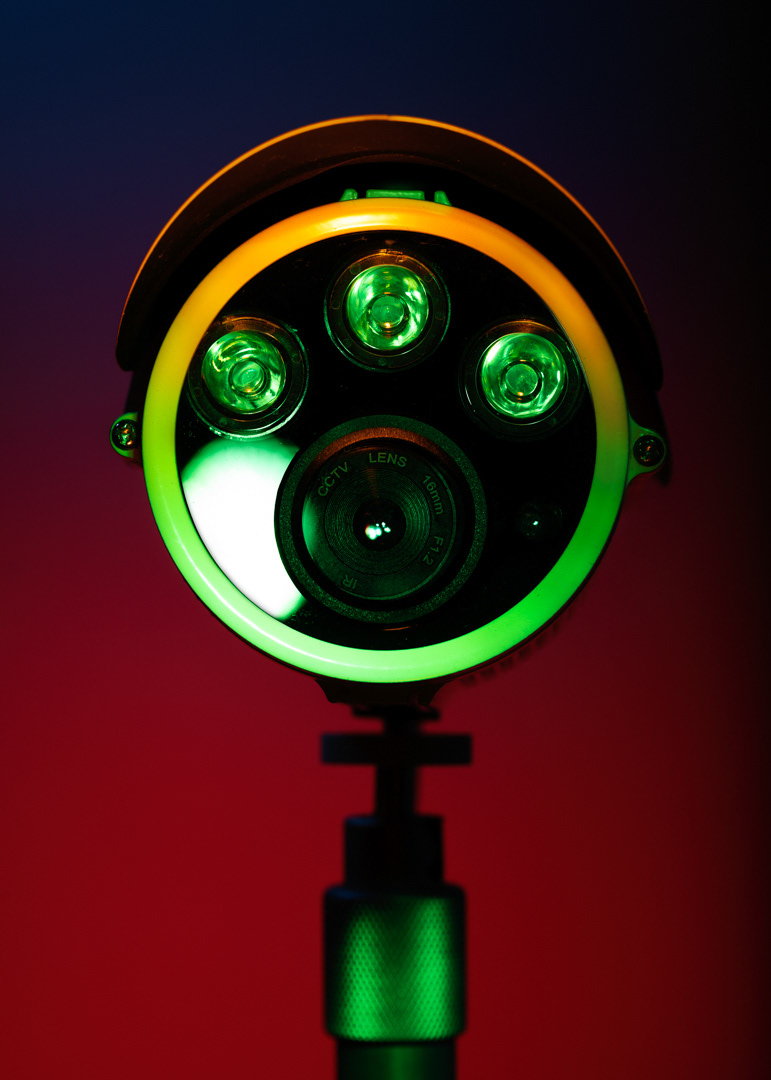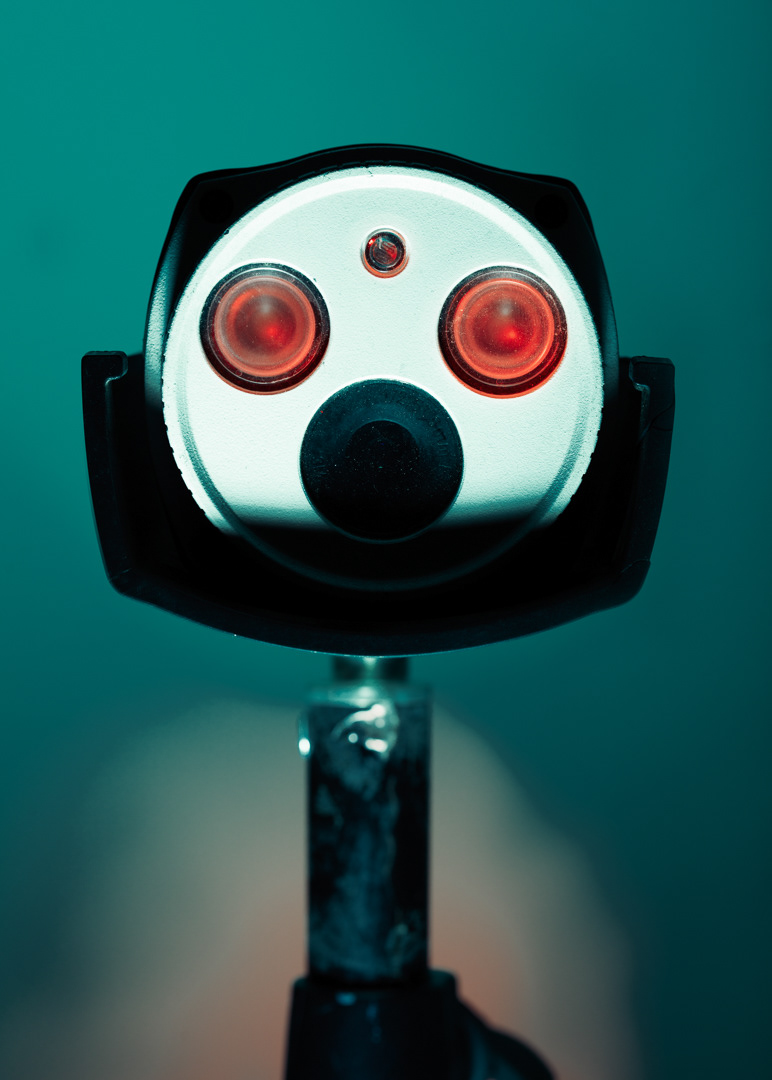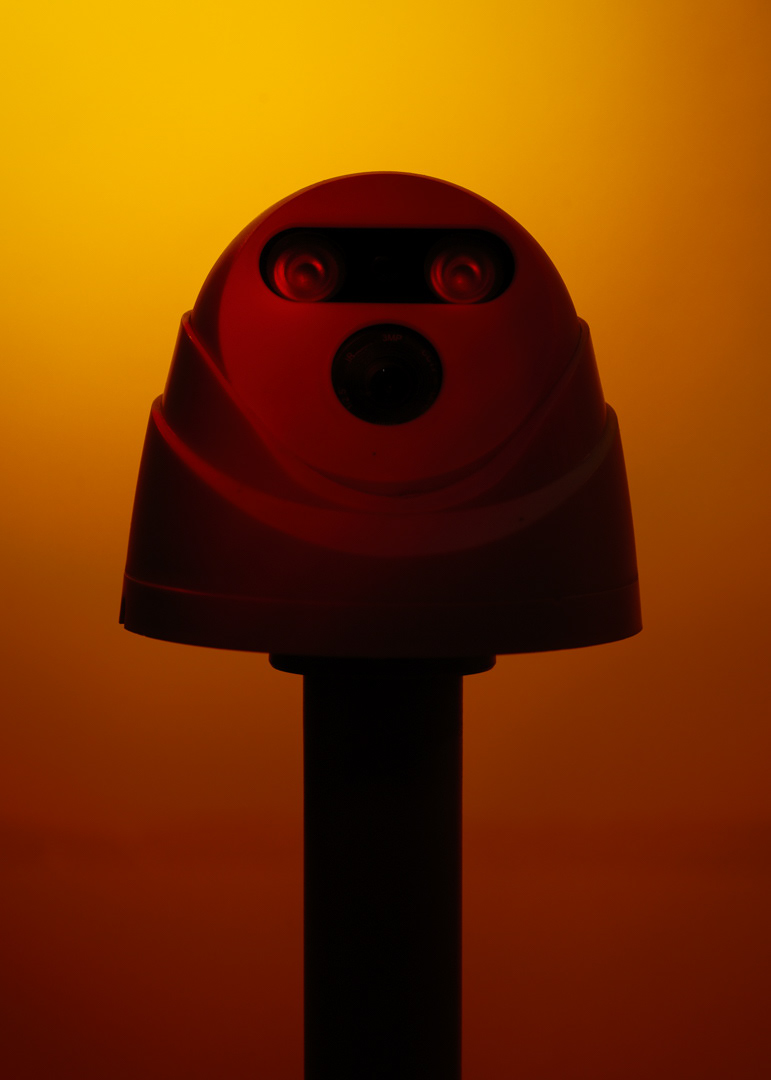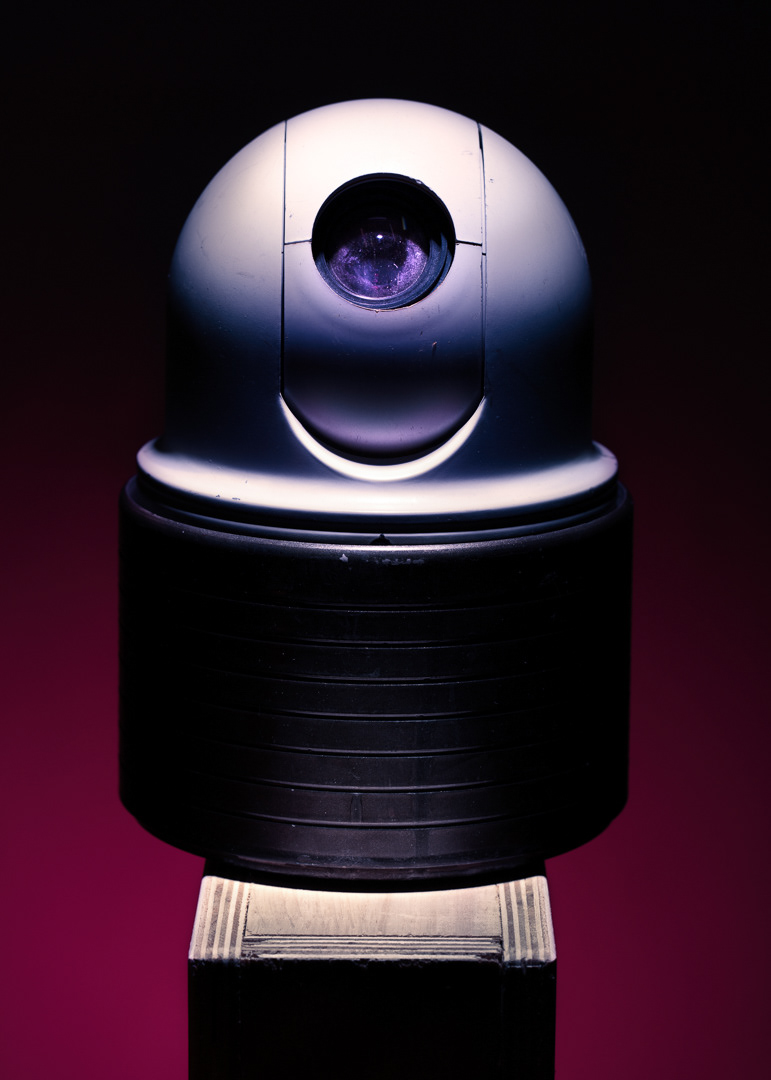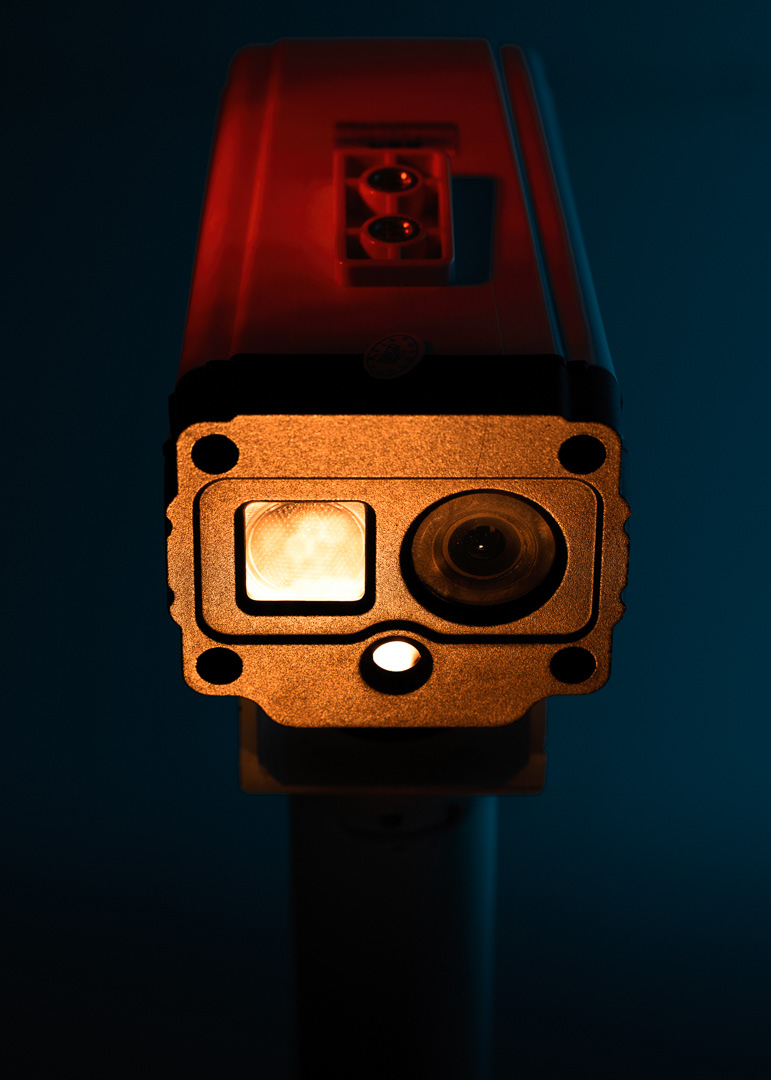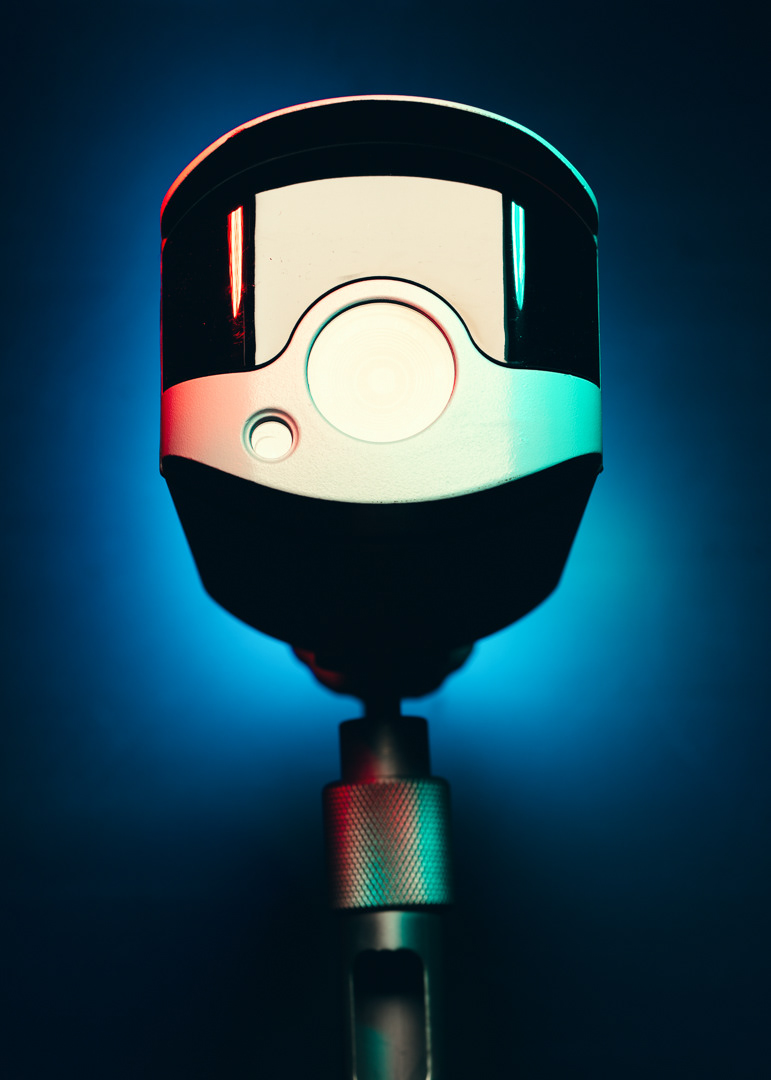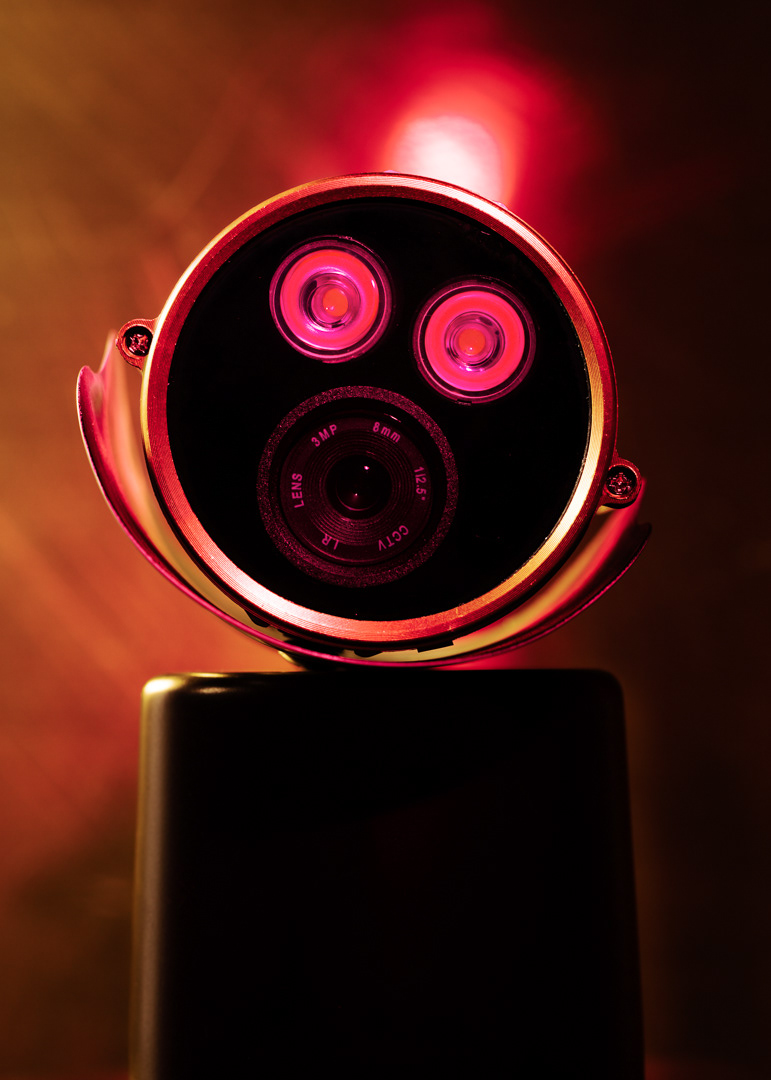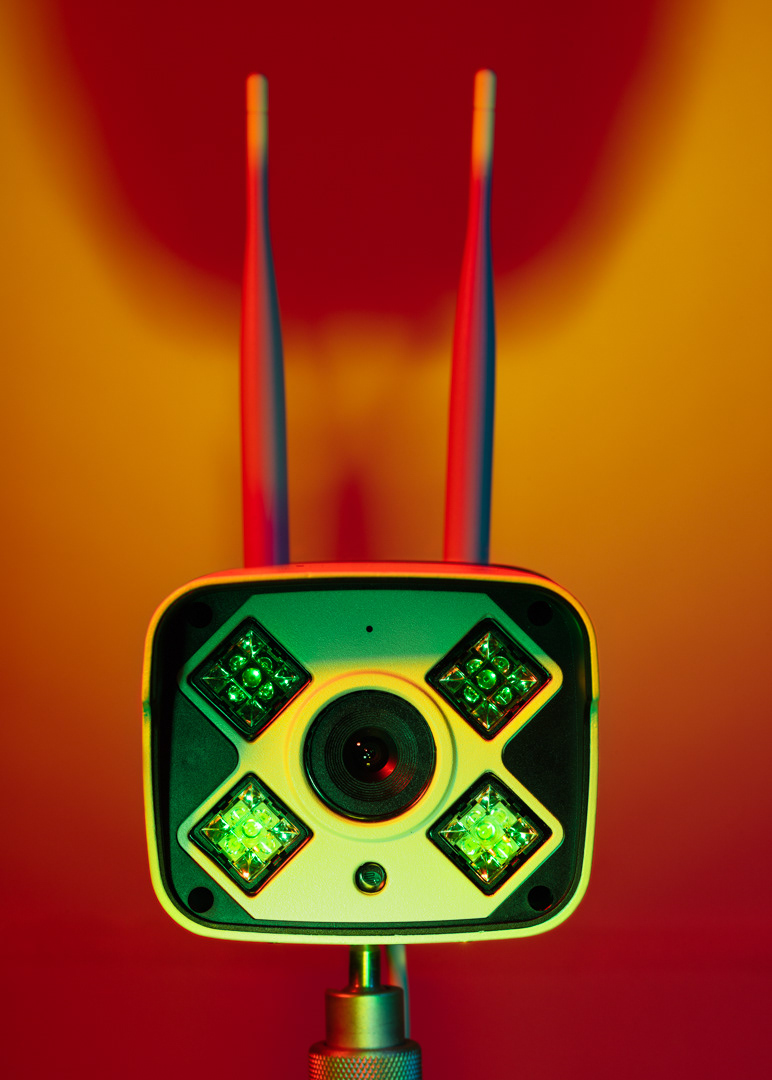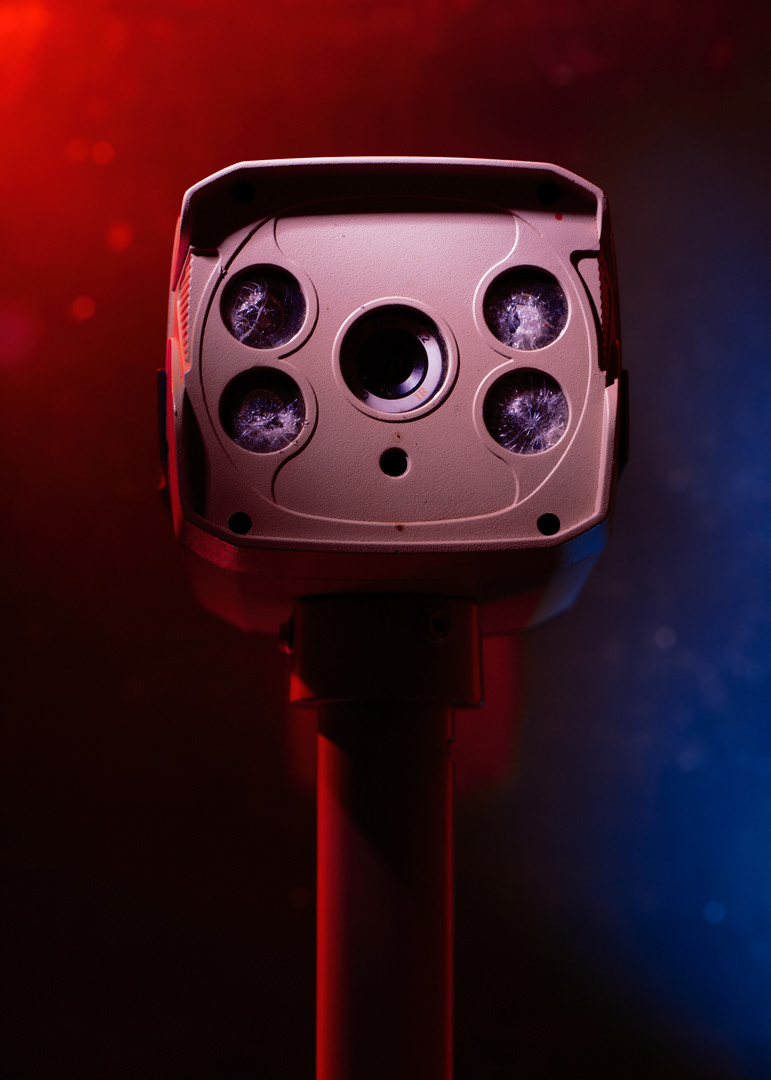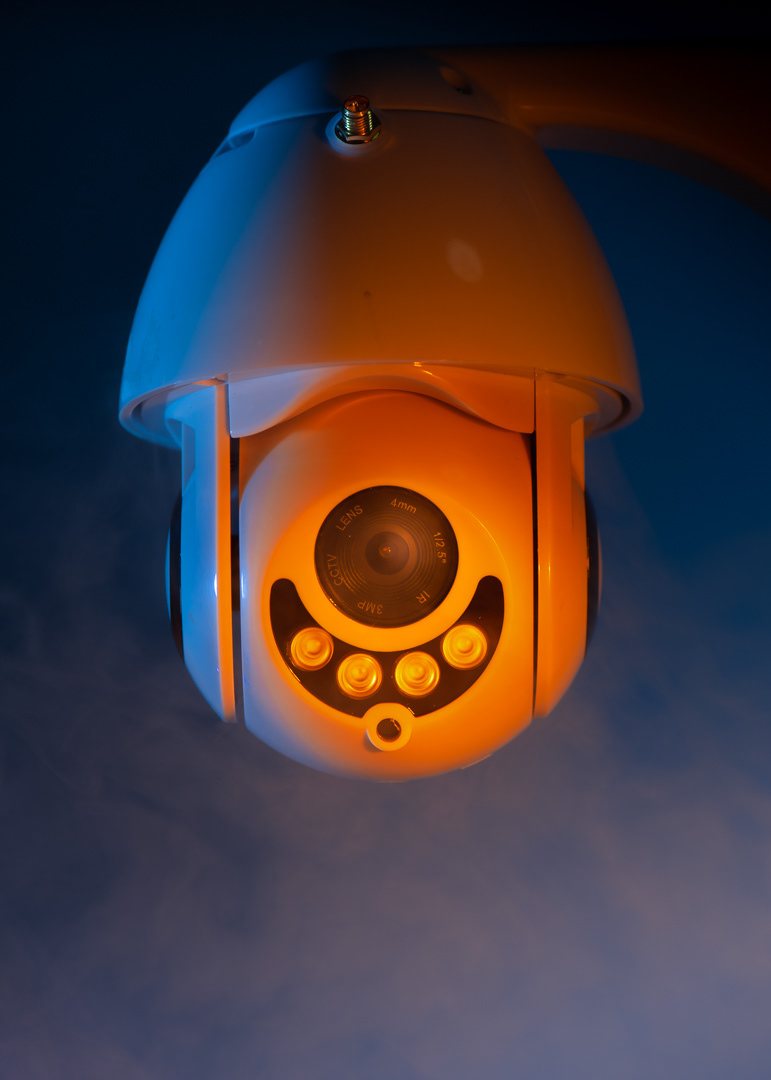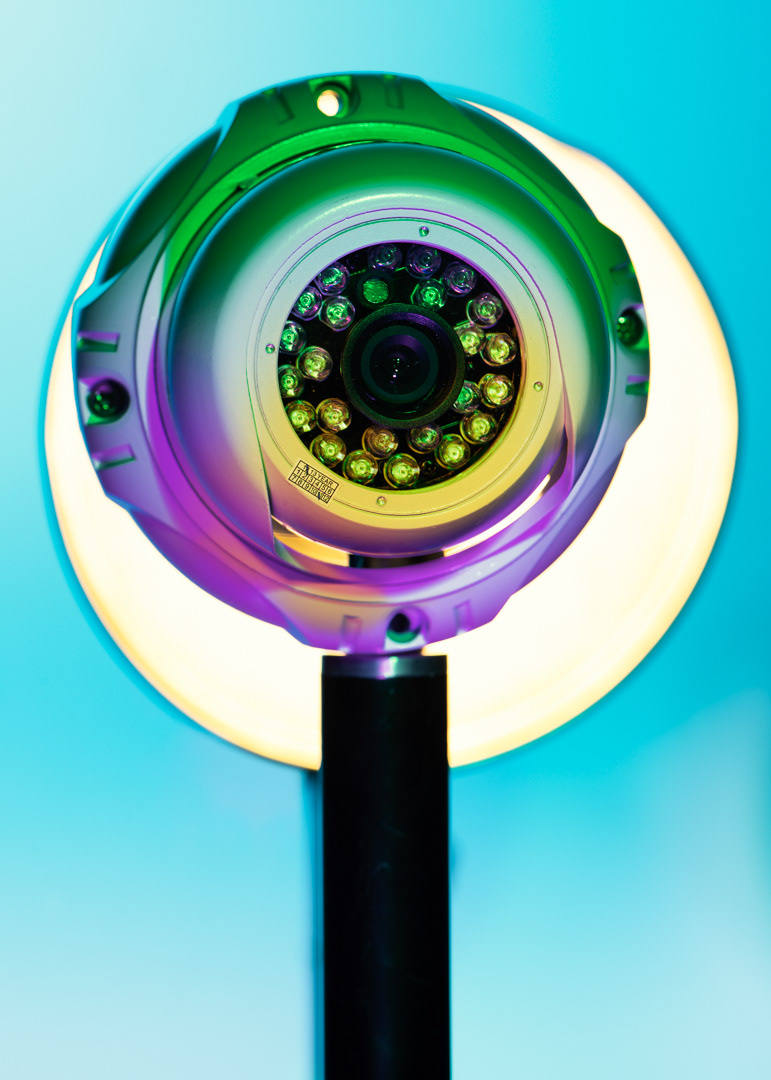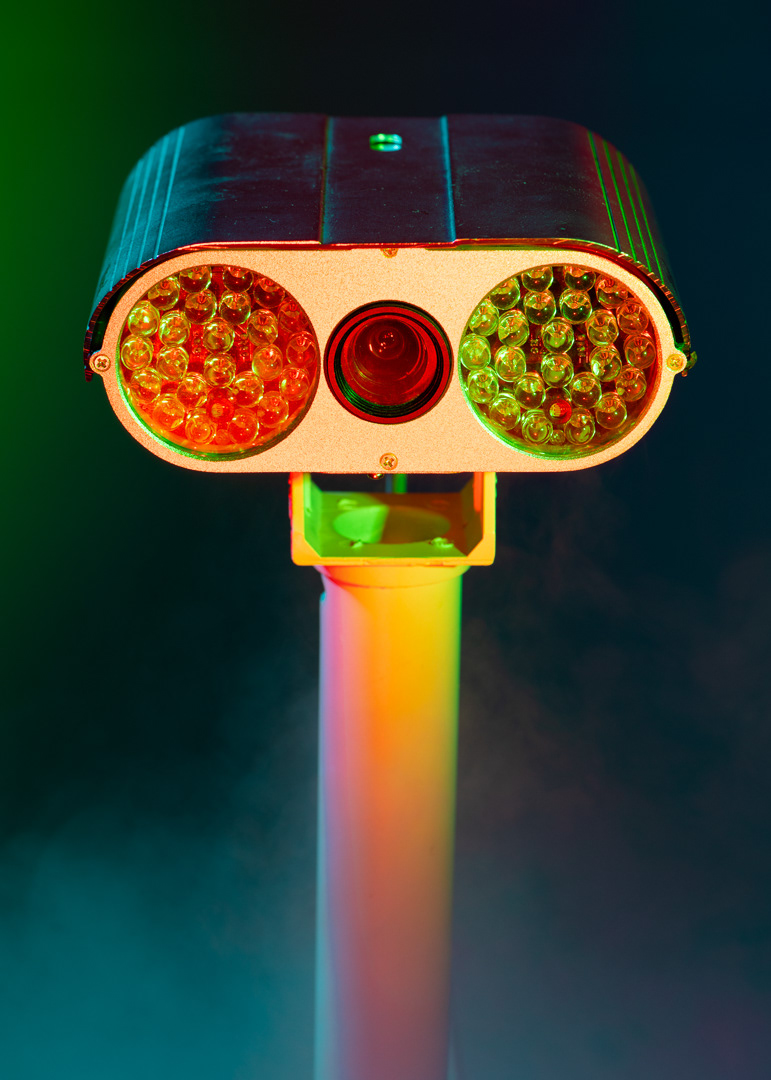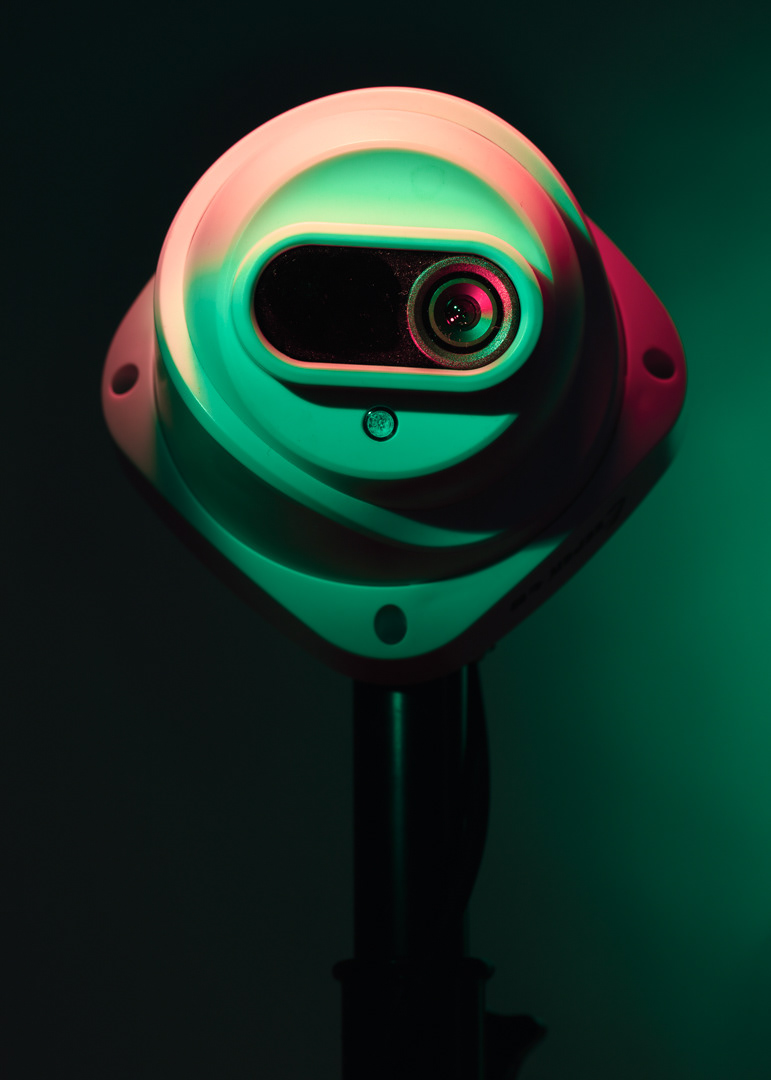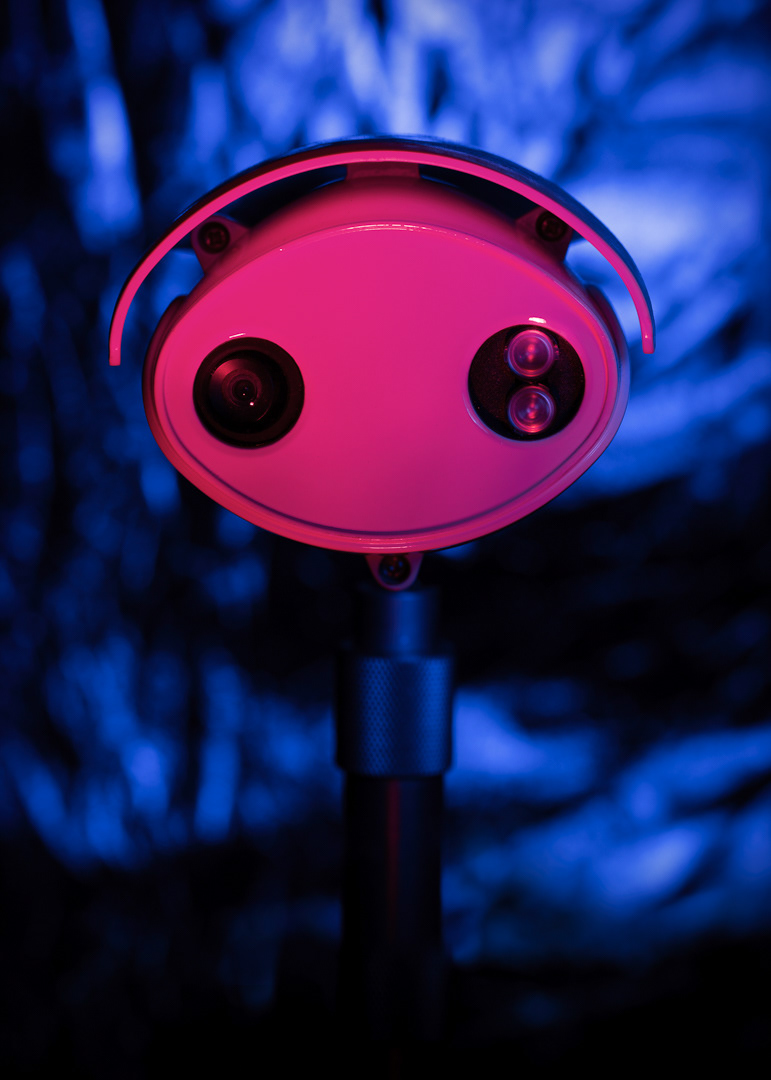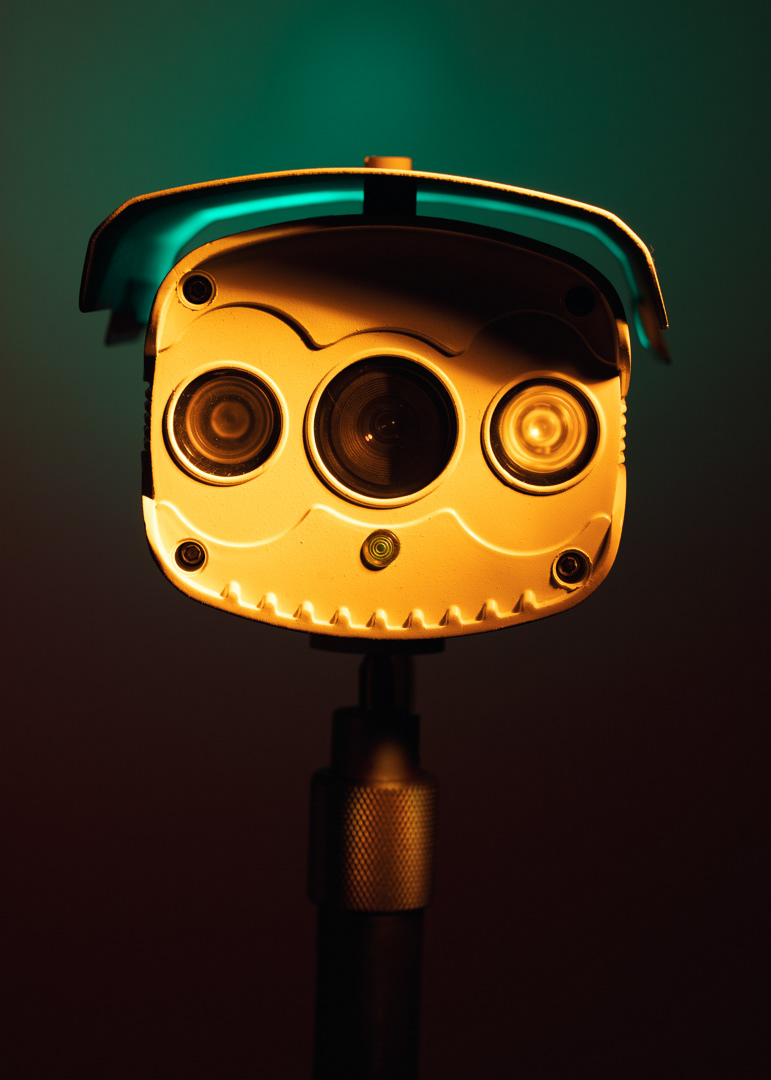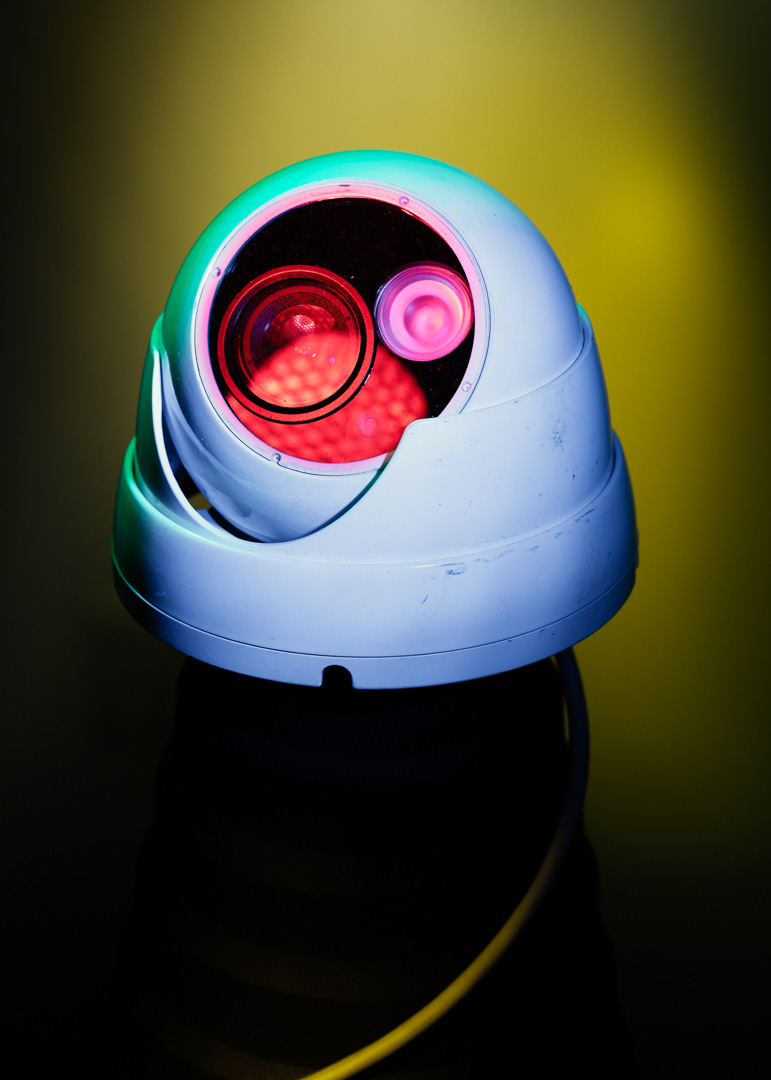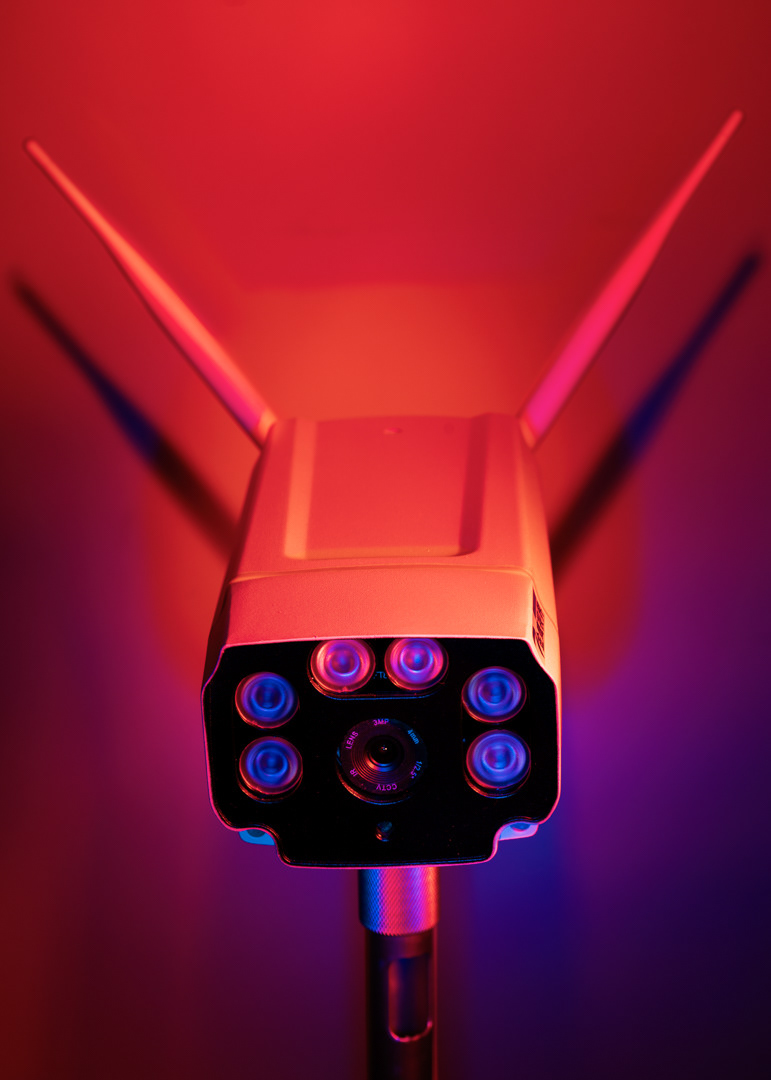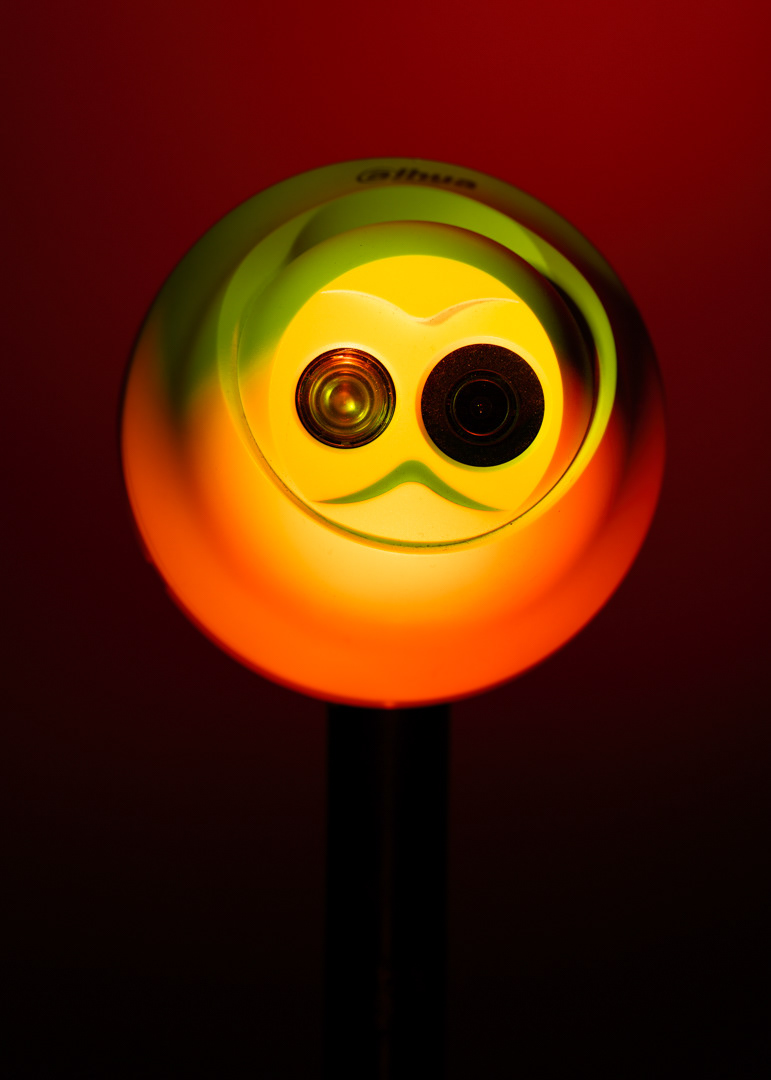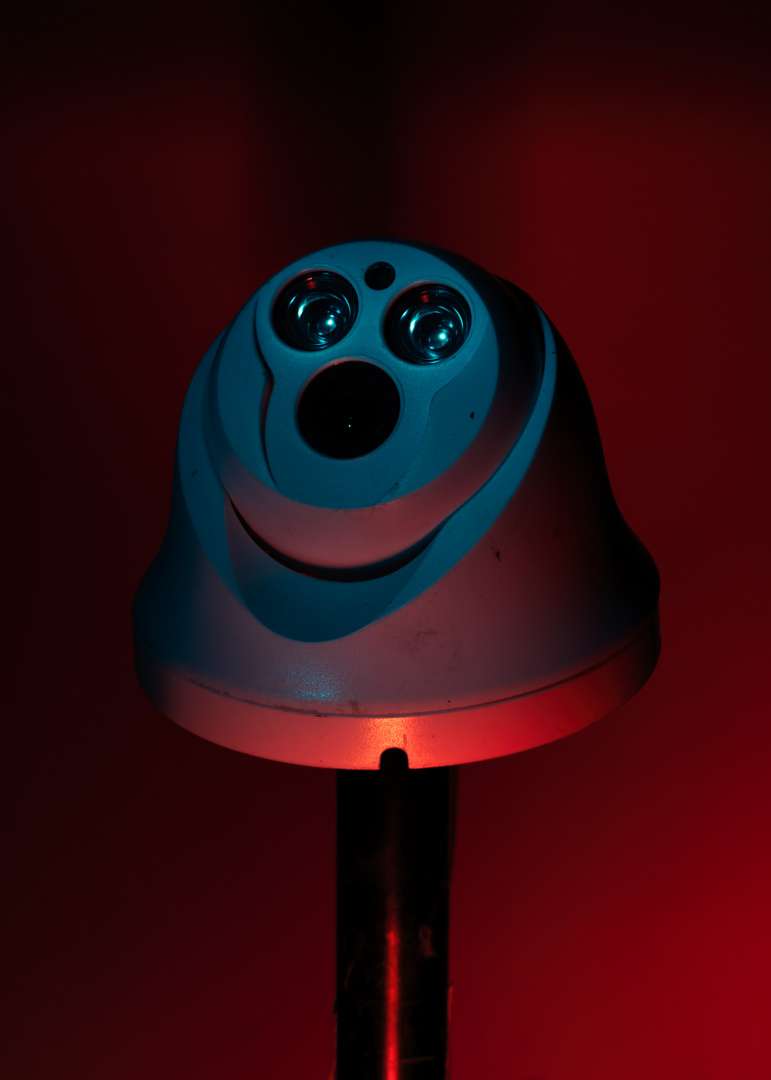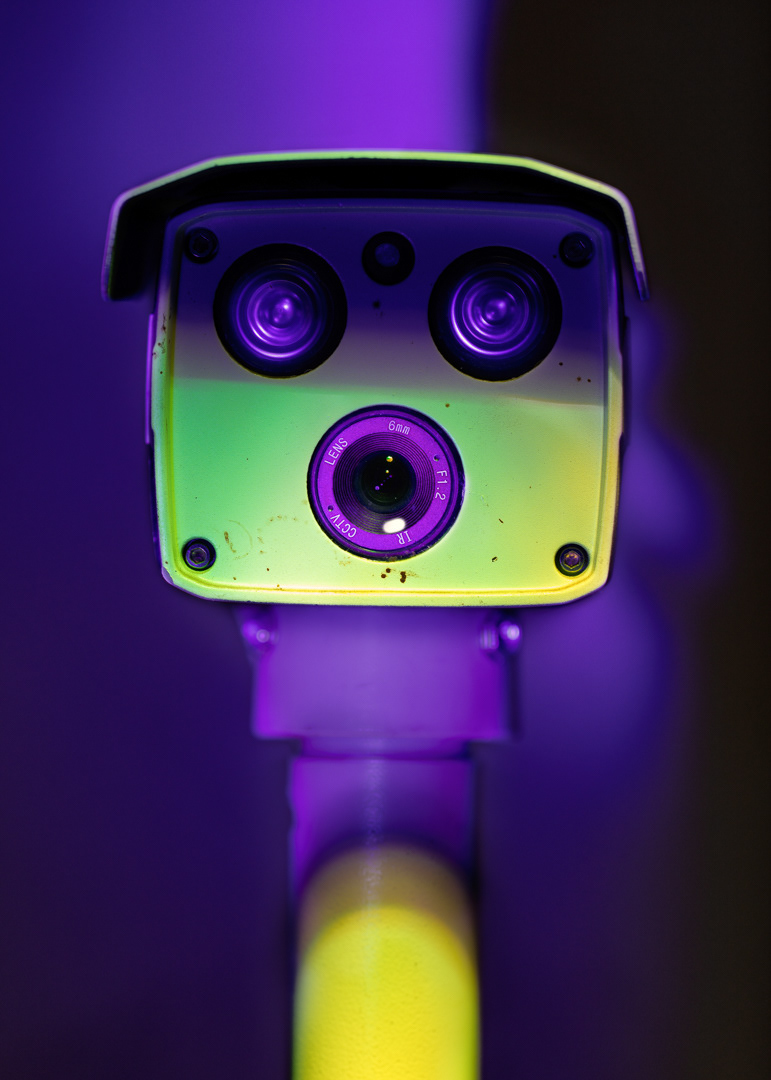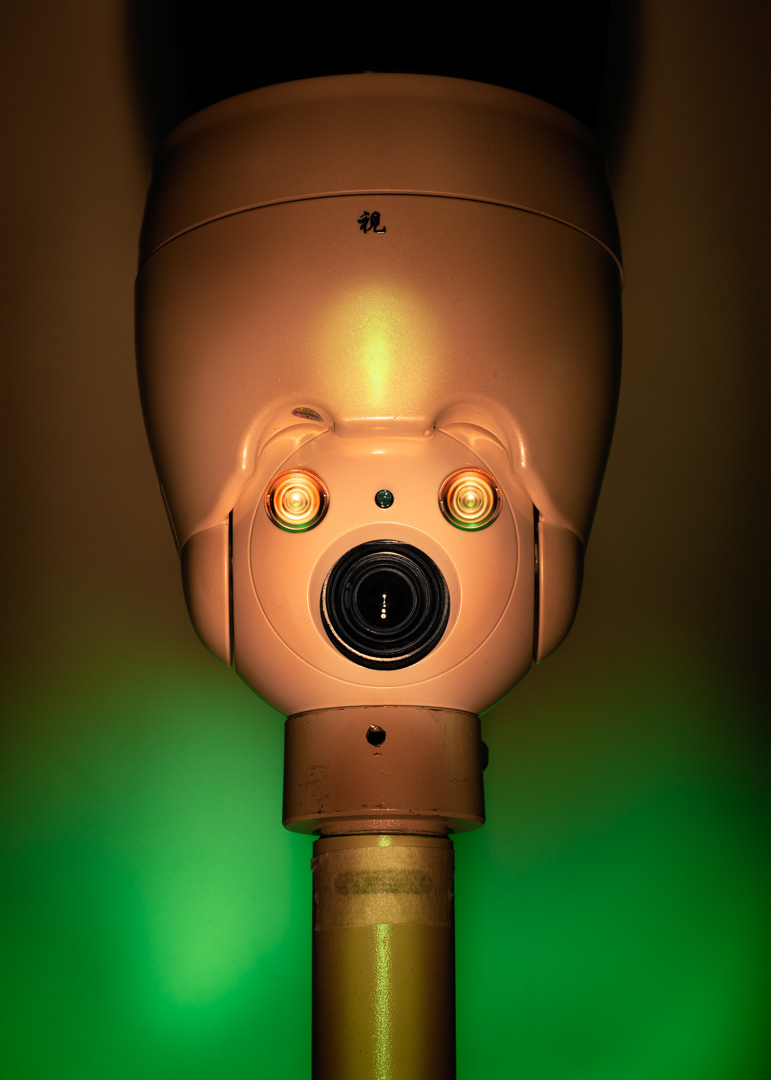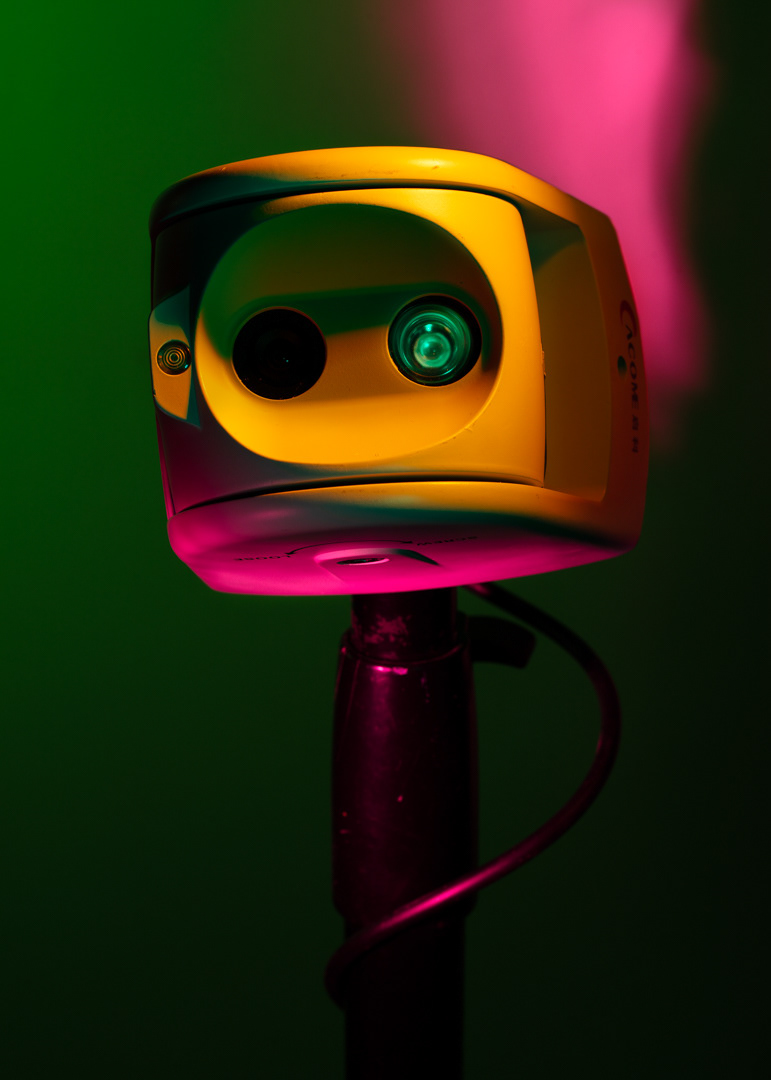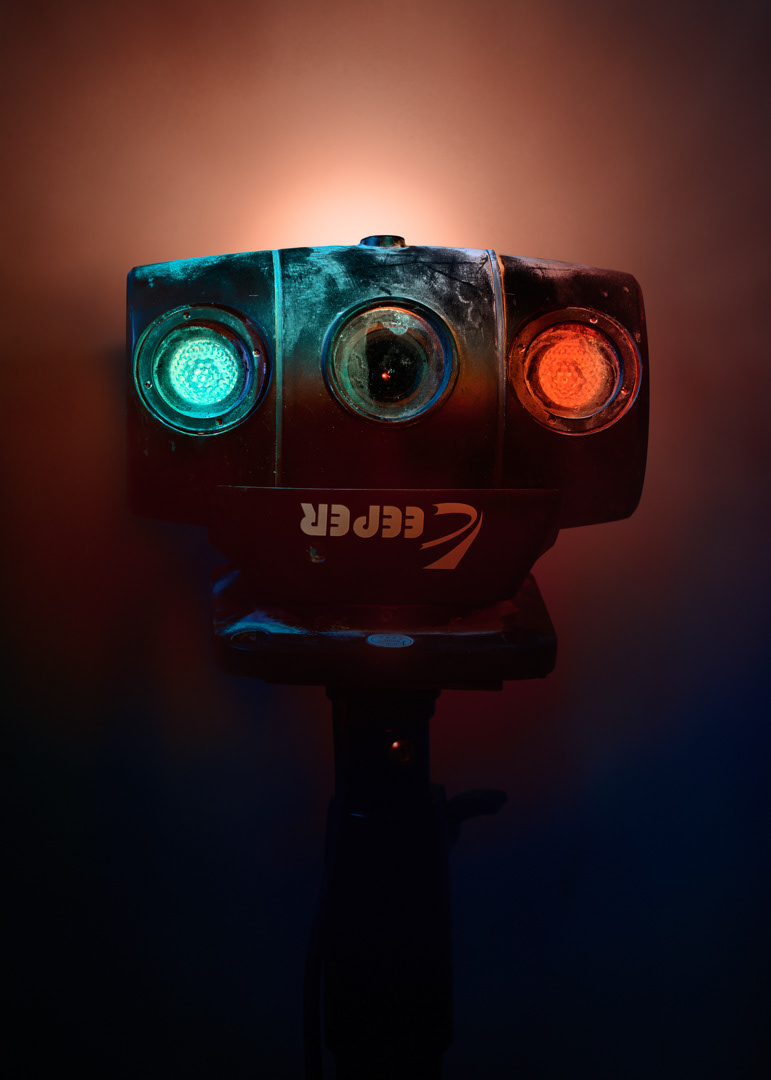 Size: 80 cm X 57 cm  (small) , 140 cm X 100 cm (large)
Surveillance system is the observer of the city, but citizens who are observed seldom look the cameras face to face. If we take the surveillance system as a creature, then the camera must be the face of it, being the area that is equipped with the most front-end information receivers. It has the sensor and lens as the visual organ to receive images; the microphone and smoke sensing system as the auditory and olfactory organs; and the pan and tilt as the neck to rotate the head so as to focus on the target. With these acute organs, the camera will see any of your subtle movements, and even get all your identity information via the facial recognition system. You look at the camera, and it is staring at you as well with a meaningful expression hiding behind the cold mask. However, you can never see through it and reach the thoughts of its operator, nor the whole picture of such a huge system. This is an inequitable eye contact.
Thus, I would like to create an equal relation between people and monitors by imaging them from the perspective of portraiture. In this way, those cameras are separated from the system, and are isolated from the society. The connection between them and their operators disappears thereupon. Cameras, which used to be tentacles of the system, are now independent individuals. Those surveillance cameras are always facing my lens, with its "face" and "expression" taking most areas of the frame. I give them personality and emotion through exposing them with color gelatin filters. My work are not product shots or still photos any more. Instead, they are hundred-percent portraitures. I hope to enable the audiences to face surveillance cameras right in front of them, to view the shape and material of them, and to figure out their "expressions".
监控系统是城市的观察者,身在其中的市民却很少与之进行面对面的对视。如果把整个监控系统比作一个自主生物的话,那么汇集了最前端的讯息接受器官的监控器就可以被看作是这个监控系统的面部。它们有接收图像的传感器和镜头作为视觉感官;有麦克风与烟雾感应系统作为听觉和嗅觉感官;有可以转动头部紧盯目标的云台作为颈部。监控器通过这些敏锐的感官可以明察你的一切细微的动作,甚至通过面部识别系统进而知晓你的所有身份信息。当你把视线与它们重叠时,却只能看到一个冰冷的面具以耐人寻味的表情一动不动的紧盯你。而你无法看穿它和它背后的操控者的想法,或从中读取这一庞大系统的全貌。这是一种非常不对等的对视。
因此,通过为监控摄像头造像,我意图创造出一种公平的对视,从肖像的角度描绘监控器。人为地把摄像头从整个系统中切断并提取,使之从社会环境中剥离。监控器与它们的幕后操控者的关联也随之消失。它们的身份已不再是一个庞大系统中的触角,而是变成了一个个独立的个体。作为个体的监控器总是面对镜头,其"脸"和"表情"占据了画面的主要部分,我的依据传统肖像画的比例进行构图。通过使用彩色的光,我赋予了它们性格与情绪。在我眼中这些照片绝对不是产品照或静物照,而是纯粹的肖像。我希望观众可以站在监控摄像头的像前以"面对面"的角度重新审视它们的形状与材质,并揣测它们的"表情"。